In Memory
Claude H. (Kirk) "Chief" Kirkland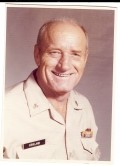 SEAFORD - Claude H. (Kirk) "Chief" Kirkland, 88, passed away Thursday, March 5, 2009.
Claude was born in Milam County, Texas. He retired from the U.S. Navy in 1960, after faithfully serving his country for 20 years. Upon retirement, he resided in Norfolk and Virginia Beach before moving to Seaford in 1967. He enjoyed gardening, bicycling, and the different time share adventures he shared with his wife. He was a member of the Fleet Reserve Unit 172, and the VFW. He was an assistant in the ROTC program with the York County School Division for 15 years, and retired in 1982. He also served two terms on the Board of Directors for the York County Red Cross.
Claude was preceded in death by his loving wife of 58 years, Mary Kirkland.
He leaves to cherish his memory to Heather and Eugene Drewry; close friend, Ray Duley; and others at Fleet Reserve.
A memorial service will be held at 5 p.m. Tuesday, March 10, 2009, at the chapel of Amory Funeral Home, Grafton.
The family would like to thank the staff at Morningside Assisted Living and Bon Secours Hospice for all their loving care.
Memorial Donations may be made to Tabb High School, 4431 Big Bethel Road, Yorktown, VA 23693, Attn:C H Kirkland, NJ ROTC Scholarship Fund. View and post condolences on our online guestbook at dailypress.com/guestbooks.