In Memory
Robert T. Morris Principal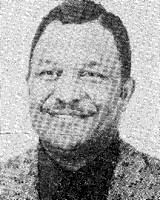 York Educator R. T. Morris Dies In Traffic Accident

GLOUCESTER - Funeral arrangements are to be made today for Robert T. Morris, 57-year-old York County educator, who died when his pickup truck ran-off the highway and crashed not far from his home near Capahosic late Saturday night.
State Police said Morris was traveling alone when his truck left the road on the left side of Route 618 and overturned. He was dead on arrival at Waiter Reed Memorial Hospital.
A veteran of 26 years in the field of
education. Morris was in his second year as Federal Programs Coordinator for the York County School System where he had served for 12 years.
Before taking that position, he served l4 years with Gloucester County' schools, including terms as principal of Tabb High School and as assistant principal and principal at Tabb Intermediate. School.
He had also been a science teacher and assistant principal at the former T.C. Walker School in Gloucester County and spent a year as a National Teachers Corps team leader in Gloucester.
He received bachelor's and master's degrees from Virginia State College and completed other graduate work at the College of William and Mary and Old Dominion University.
Born in Gloucester County, he had been active in church and community affairs in the county.
He was a former member of the Gloucester Planning Commission and was a candidate for the county board of supervisors in 1971.
Survivors include his wife, Mrs. Mi11dred Berry Morris of Route I, Gloucester; a son, Robert E. Morris of Richmond; his mother, Mrs. Edith Morris of Gloucester and Richmond; and three sisters, Mrs. Victoria Henry of Philadelphia, Mrs. Bernice Cooke of Brooklyn, N.Y., and Mrs. Lois Johnson of Richmond.
Howard Funeral Home, Ark. is in charge of funeral arrangements.